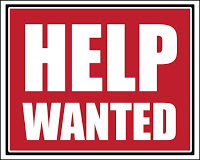 San Mateo County Community
College District
Student Assistant: $14.50 per hour, 10 – 20 hours per week
Part-Time Student Employee – Business
and Marketing Skills
The successful candidate will have knowledge of and
experience of accounting and marketing. In addition, we are looking for a
student with excellent interpersonal communication skills, good writing ability
and a good working knowledge of Excel.
The student assistant will work with two programs. The international student program and the
homestay referral program. The
international student program needs assistance with processing business expense
reports and editing marketing materials.
The homestay referral program needs assistance with processing host
family and student applications to the program.
The position is located at
the District Office, which is across the street from the College of San Mateo
campus. Applicants must be able to present examples of their marketing skills
and website design and layout work at time of interview—either actual "for
hire" examples or schoolwork is acceptable. References from teachers or
employers in the field of website design are required.
Submit a resume with a cover
letter addressing how you meet the specific job qualifications. Work samples will be requested if you are
selected for an interview.
E-mail
the required documents to:
Diane Arguijo
Director of International Education
San Mateo County Community College District
3401 CSM Drive
San Mateo, CA 94402
Application
deadline: Until filled