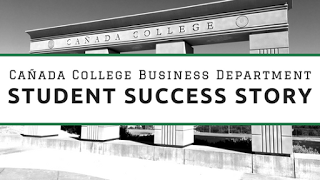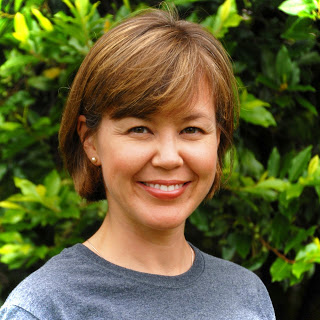 Cañada College student, Janet Bryant
Janet Bryant is originally from the South and relocated to the Bay Area in 2003.  Janet started taking classes at Cañada College in the Fall of 2015 after nearly 20 years of working in the administrative field.  She continues to work full-time on top of being a full-time student and has a lot on her plate, but that hasn't stopped her from pursuing her personal and professional growth here at Cañada College.  She is currently working towards getting her Associate's degree in Accounting, with the long term goal of transferring to a four-year school. We sat down with Janet to ask her some questions about her experience at Cañada College thus far, and here is what she had to say.
What were some of the factors in your decision to go school and get a degree?
My dream has always been to go to college and earn a degree.  I had attended The University of Southern Mississippi in 2001 before relocating to California, but the large school was not a good fit for me at the time. With my son's high school graduation in 2015, I realized the timing was right for me to fulfill my dream of earning a degree. And because continually learning is important to me, I wanted to open new doors that getting a degree makes possible.  I knew then it was time to enroll in college to better prepare for my future.
Were you considering going to another community college in the area before deciding to go to Cañada College? What made you decide on Cañada College?
I took a campus tour before enrolling, and all of my questions were answered before I even got to ask them on the tour. I took that as a good sign. My choices were Cañada College and the College of San Mateo, which are both part of the San Mateo Community College District, but Cañada was more easily accessible.  Cañada College's location, flexibility of classes, and the courses and degrees offered made Cañada College an easy choice for me.
Do you like the campus here at Cañada College?
I love Cañada College's campus.  The professors and staff are helpful, friendly, and professional. The classes are relevant, challenging, and perfectly-sized, and the resources at Cañada are phenomenal (A2B, Learning Center, College for Working Adults, Math Jam).   To top it off, Cañada College has one of the best views in the Bay Area. I often come here on weekends to run on the trails around campus just to take in the scenery on my free time.
You're working towards an Associate's degree in accounting at Cañada College, what made you decide on accounting?
I have close to twenty years work experience in the business field.  During that time I really enjoyed working with numbers, and to continue in accounting, I knew having a formal education would provide the professional advantage I wanted.
Have you enjoyed the classes you've taken in the business and accounting department here at Cañada College? Have you taken any online classes?
I have thoroughly enjoyed the classes I have taken in the business and accounting department here at Cañada College, and have already learned a great deal that I use every day.  As a mom and full-time professional, it is essential that classes are offered at times other than during usual working hours.  Thankfully, Cañada offers many evening and online courses, so I can stay on track for completing my Associate's degree and meeting transfer requirements while still working full-time.  So far I have taken one online business class (BUS 100).  It has been such a positive experience, and although I will miss being on campus as often, I have registered to take additional online classes over the summer and fall 2016 semesters.
What is something that has surprised you about Cañada College?
I was surprised at how quickly I felt like I belonged.  After returning to school from such a long hiatus, I didn't know what to expect.  Would I feel lost?  What if I don't understand the material?  My worries were erased on my first day.  My professors have been outstanding, and I cannot say enough positive things about the resources available to students.  Going to college either as student just of out of high school, or as someone returning to school after some time can be overwhelming, but the atmosphere at Cañada makes the transition easy.
What advice would you give to someone considering going to Cañada College?
I would say that you're not going to be disappointed. There is something for everyone here, be it just taking one class, or taking on a full schedule, Cañada College offers something for everyone. There is always someone here willing to help you.  Ask questions, make connections, and get involved!
Interview conducted in May of 2016
Jonathan Wax
jonathanwax@my.smccd.edu