Congratulations Ana Díaz!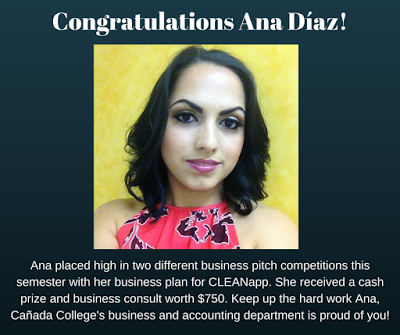 Cañada College student Ana Díaz recently competed in two different business plan pitch competitions, and did well in both with her business plan for CLEANapp.
Ana Díaz placed 5th in the Get a Taste of Success Business Plan Pitch Competition, but this was just a warm up for her placement in the top three in the College of San Mateo's Pitch-Deck Competition! You may remember us posting about the College of San Mateo's competition a couple of weeks ago. Ana Díaz impressed the judges and walked away with a cash prize of $50, and will be receiving $700 worth in consulting to give her guidance in growing her business idea. Congratulations Ana, we can't wait to see what happens next with your business CLEANapp.
CLEANapp is a platform that allows Ana's cleaning service business to connect directly with clients via their smartphone. The application allows for customized cleaning requests, instant price estimates, and booking services. If you're interested to learn more, you can contact Ana Díaz directly at: adiaz106@my.smccd.edu